Posted on July 24, 2021



  By Dane Miller & Stephen Vilardo, SuperWest Sports
E
ach Pac-12 football venue has its unique characteristics, advantages, and disadvantages, ranging from capacity to the way it's structured and its history and tradition.
In this 12-part series, we look at what makes each facility unique, considering some of the key moments and stats (provided by SERCstats.com) in the Pac-12 Era.
In this fifth installment, we scout UCLA's home turf, the historic Rose Bowl.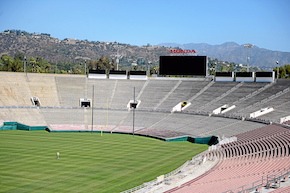 Built: 1922
Renovated: 2016
Capacity: 91,136
Elevation: 830
Overall Record: 37-23
Nonconference record: 11-5
Conference Record: 26-18
B
uilt in 1922, the Rose Bowl—best known as the namesake of the "Granddaddy of them All"—has been the home of UCLA football since 1982.
Parking has historically been a mess, and traffic on the way to the stadium is typical for Los Angeles, but there is something special about the venue that makes it a bucket-list item for many.

The feeling in the air prior to night games is bolstered by the Southern California sunset and the unique aroma the Pacific Ocean brings to Pasadena.
The resulting anticipation, arguably unmatched in the Pac-12, can be summed up in just five words: This is the Rose Bowl.
Yet, during the Pac-12 Era, the Bruins have had mixed success.
Arizona State, USC, Arizona, and Colorado all have losing records in the stadium, but Stanford is undefeated, and Utah has just a single loss.
The nine wins over ranked opponents is respectable, although the victory over the highest ranked team was No. 14 Arizona in 2014. Without a win over a Top 10 program, the allure of the stadium loses some of its shine.
Perhaps the lack of opportunities is partially to blame, as Oregon and Washington have played just two games each in Pasadena since 2011.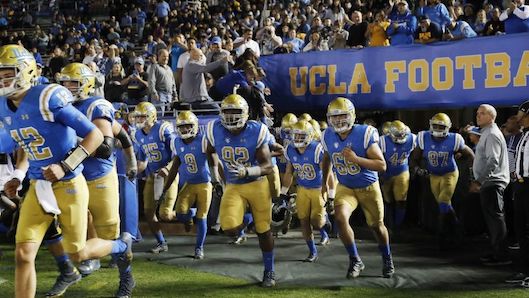 Still, Josh Rosen's comeback against an unranked Texas A&M team won't ever be forgotten, and the 14-8 mark when the Bruins are ranked shouldn't be overlooked.
Nor should the 5-3 record in matchups featuring two Top 25 teams, and the undefeated streak against nonconference opponents when UCLA is ranked.
At the same time, breaking even against Pac-12 opponents when the Bruins are ranked might be the Achilles Heal of the program since 2011.

Even so, there's no denying the losing record of every team in the South outside of Utah, and the upper hand against the Trojans.
With Chip Kelly apparently poised to break through, the next decade might turn out to be even better than the last.
If Kelly is able to get it done, the low attendance woes of his tenure in Westwood could flip and even exceed the heyday of the Jim Mora Era.
Such a sight would be more than welcomed by the Pac-12, and would harken to the fading early days of the expansion.
Build it back, and they will come.
Records vs. Top 25
Record v. Top 25: 9-11
Record v. Top 25 Conference Opponents: 7-9
Record v. Top 25 Nonconference Opponents: 2-2
Record v. Top 25 when Ranked: 5-3
Records When Ranked
Record when Ranked: 14-8
Record v. Conference Opponents when Ranked: 8-8
Record v. Nonconference Opponents when Ranked: 6-0
Highest Ranking for Home Game: No. 7 (2015)
Ranked Opponents
Victory over Highest Ranked Team: No. 14 Arizona (2014)
Loss to Highest Ranked Conference Opponent: No. 7 Stanford (2016)
Loss to Highest Ranked Opponent: No. 5 Oklahoma (2019)
Highest Ranked Opponent: No. 5 Oklahoma (2019)
Highest Ranked Nonconference Opponent: No. 5 Oklahoma (2019)
Victory over Highest Ranked Nonconference Opponent: No. 16 Nebraska (2012)
Records of Pac-12 Teams at the Rose Bowl
Stanford: 5-0
Utah: 3-1
Oregon State: 2-1
Oregon: 1-1
Washington: 1-1
Washington State: 1-1
Arizona State: 2-3
USC: 2-3
California: 1-5
Arizona: 0-5
Colorado: 0-5
Follow Stephen on Twitter @StephenVilardo, Dane @DaneMiller_SP12, and SERCstats.com @SERCenter. 
---
—More from Dane Miller—

Latest posts by Dane Miller
(see all)